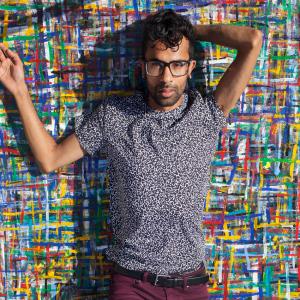 Emal de Lanerolle
Emal Joseph de Lanerolle is a Toronto-based Artist. He works in the mediums of paint, print- making, sculpture, and philosophy to create vibrant explorations into a range of topics including love, science, war, nature, sex, philosophy, and society. He is primarily a self-taught visual artist, yet would still consider himself an academic at heart.
de Lanerolle's art is heavily dependent in the ways that individuals 'Experience and Perceive.' "Even an artwork with blatant imagery and content is still dependent on the viewer to Experience and Perceive it." Embedded in colours, shapes, and brushstrokes, each viewer as each artist must draw on their accumulated personal knowledge which is a basis to communication. Each painting is meant to impact a personal understanding in an inevitably shared environment.
From a young age Emal had always been been drawing, asking questions and contemplating existence. His earliest memory is at age four, waking up and seeing himself sleeping exactly where he had dozed off and in that very surrounding. This memory often makes him question whether he was still in the dream or if he actually had woken up.
In 2008 Emal completed a degree in Sociology and Philosophy at the University of WIndsor. He regards those years as some of the most terrifying and revealing times of his life.
Emal would describe his Art as process and theory based. "The reason an artist creates, the way they get there and what they get out of that time is the most important aspect of the creation process and art, the final product is only just that a reflection and outcome of that time." He would consider "Experience and Perspective" (ExP) the basis to his visual and philosophical works. (ExP) is about the relationship between these two concepts creating the basis and purpose to our own existence. When we accept that ExP is occurring then to view or create something like a painting is purely dependant on ones own (ExP).
Emal is versed in many different art forms and because of (ExP) his painterly/ creative manner may change from series to series. De Lanerolle regards his ever changing styles as necessary to his exploration of the effect of Experience and Perspective as an artist and a viewer.
---
When did you start making art, and why?
I've been making art my whole life but I didn't know what it meant to me till I was 19. Since then the reason I create more than defines my entire existence. I make Art to appreciate and understand our world.
Everyone should know about
The freedom in creative expression and that the word Art is more broad than they think!
Favourite artist(s) right now
My really good friend and mentor, UK Artist based in Toronto Alexander Rome.
Your favourite spot in Toronto right now
My studio in Little Portugal, I can spend days in there! I also love Kensington Market.
What do you mean, "try"?
Try-before-you-buy with a 3 month rental. 100% of your rental payments go towards the purchase (interest free). Message the artist directly, and start the conversation.
---
Art made (truly) affordable
We make it easy for you to try art with smart payment plans and try-before-you-buy models.
See How It Works
---
You're covered.
Artwork protection is included on all art rentals up to $5K. Our Customer Care team is always here to help.
Contact Us
---
Unlock Trade Access
For industries including interior design, film/TV production, & real estate staging: rent original pieces that fit with your project vision, budget and timeline.
Apply for Trade Access
---
1% from every transaction goes towards a Canadian arts nonprofit.